Profile: Angela Goodall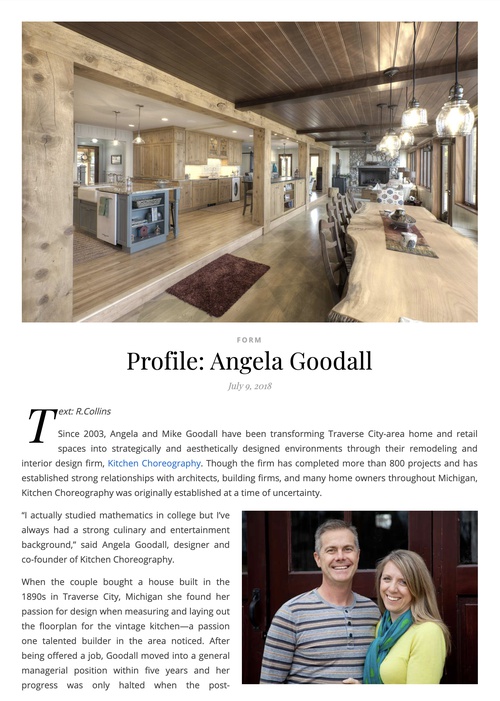 Profile: Angela Goodall
By R. Collins, Great Lakes by Design
Since 2003, Angela and Mike Goodall have been transforming Traverse City-area home and retail spaces into strategically and aesthetically designed environments through their remodeling and interior design firm, Kitchen Choreography. Though the firm has completed more than 800 projects and has established strong relationships with architects, building firms, and many home owners throughout Michigan, Kitchen Choreography was originally established at a time of uncertainty.
"I actually studied mathematics in college but I've always had a strong culinary and entertainment background," said Angela Goodall, designer and co-founder of Kitchen Choreography.
When the couple bought a house built in the 1890s in Traverse City, Michigan she found her passion for design when measuring and laying out the floorplan for the vintage kitchen—a passion one talented builder in the area noticed. After being offered a job, Goodall moved into a general managerial position within five years and her progress was only halted when the post-September-11th recession struck the country. While the budding business Goodall had become integrated into closed its doors, the choice of what to do next was a natural one to make.
"I thought: 'should I go back to school? What direction should I take? That's when we decided to open up Kitchen Choreography," Goodall said.
Share on Facebook