Kitchen Choreography Wins First Place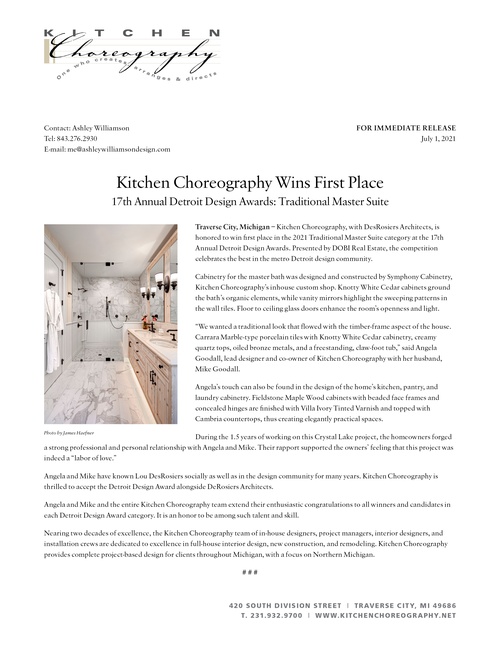 Kitchen Choreography Wins First Place
17th Annual Detroit Design Awards: Traditional Master Suite
TRAVERSE CITY, Michigan – Kitchen Choreography, with DesRosiers Architects, is honored to win first place in the 2021 Traditional Master Suite category at the 17th Annual Detroit Design Awards. Presented by DOBI Real Estate, the competition celebrates the best in the metro Detroit design community.
Cabinetry for the master bath was designed and constructed by Symphony Cabinetry, Kitchen Choreography's inhouse custom shop. Knotty White Cedar cabinets ground the bath's organic elements, while vanity mirrors highlight the sweeping patterns in the wall tiles. Floor to ceiling glass doors enhance the room's openness and light.
"We wanted a traditional look that flowed with the timber-frame aspect of the house. Carrara Marble-type porcelain tiles with Knotty White Cedar cabinetry, creamy quartz tops, oiled bronze metals, and a freestanding, claw-foot tub," said Angela Goodall, lead designer and co-owner of Kitchen Choreography with her husband, Mike Goodall.
Angela's touch can also be found in the design of the home's kitchen, pantry, and laundry cabinetry. Fieldstone Maple Wood cabinets with beaded face frames and concealed hinges are finished with Villa Ivory Tinted Varnish and topped with Cambria countertops, thus creating elegantly practical spaces.
During the 1.5 years of working on this Crystal Lake project, the homeowners forged a strong professional and personal relationship with Angela and Mike. Their rapport supported the owners' feeling that this project was indeed a "labor of love."
Angela and Mike have known Lou DesRosiers socially as well as in the design community for many years. Kitchen Choreography is thrilled to accept the Detroit Design Award alongside DeRosiers Architects.
Angela and Mike and the entire Kitchen Choreography team extend their enthusiastic congratulations to all winners and candidates in each Detroit Design Award category. It is an honor to be among such talent and skill.
Nearing two decades of excellence, the Kitchen Choreography team of in-house designers, project managers, interior designers, and installation crews are dedicated to excellence in full-house interior design, new construction, and remodeling. Kitchen Choreography provides complete project-based design for clients throughout Michigan, with a focus on Northern Michigan.
See more images: https://www.kitchenchoreography.net/northern-classic/irresistible-northern-style/
# # #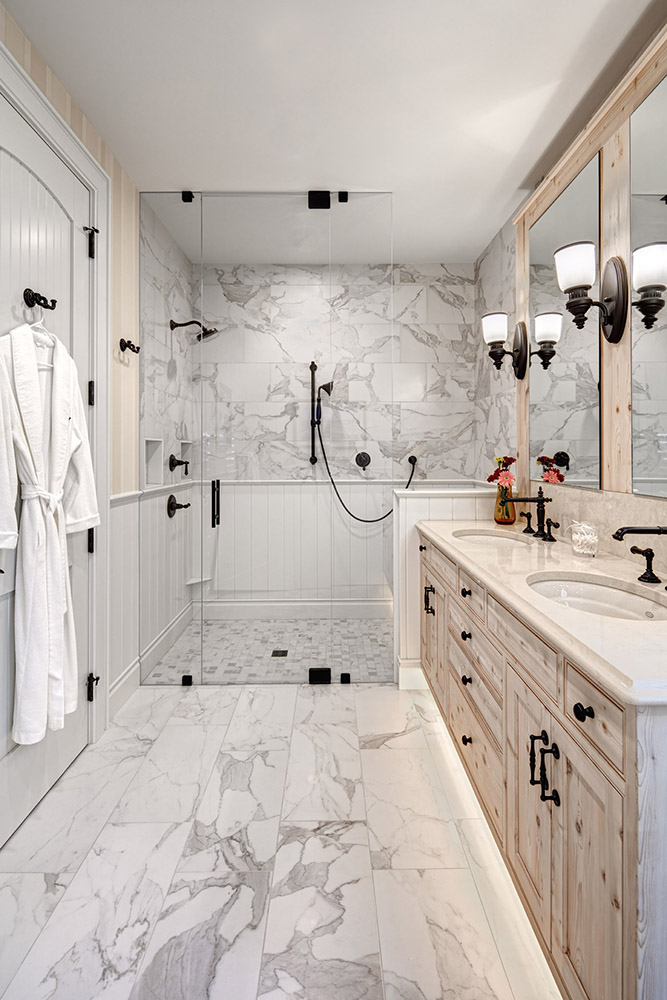 Share on Facebook