Elegant Lake Charm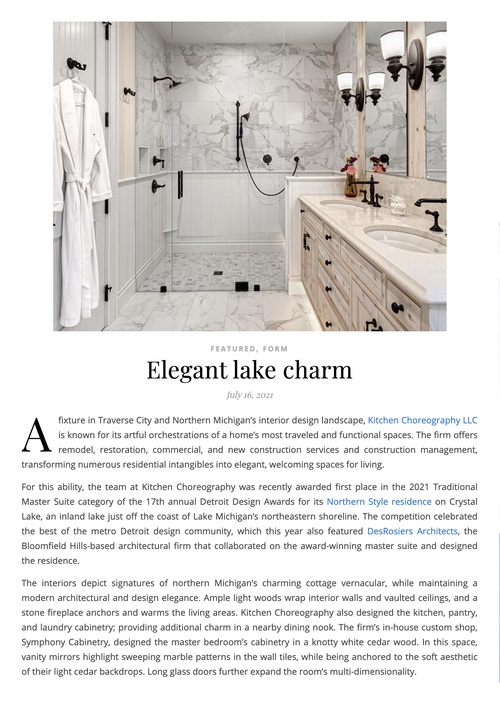 Elegant Lake Charm
By R. Collins, Great Lakes by Design
Photography: James Haefner
A fixture in Traverse City and Northern Michigan's interior design landscape, Kitchen Choreography LLC is known for its artful orchestrations of a home's most traveled and functional spaces. The firm offers remodel, restoration, commercial, and new construction services and construction management, transforming numerous residential intangibles into elegant, welcoming spaces for living.
For this ability, the team at Kitchen Choreography was recently awarded first place in the 2021 Traditional Master Suite category of the 17th annual Detroit Design Awards for its Northern Style residence on Crystal Lake, an inland lake just off the coast of Lake Michigan's northeastern shoreline. The competition celebrated the best of the metro Detroit design community, which this year also featured DesRosiers Architects, the Bloomfield Hills-based architectural firm that collaborated on the award-winning master suite and designed the residence.
The interiors depict signatures of northern Michigan's charming cottage vernacular, while maintaining a modern architectural and design elegance. Ample light woods wrap interior walls and vaulted ceilings, and a stone fireplace anchors and warms the living areas. Kitchen Choreography also designed the kitchen, pantry, and laundry cabinetry; providing additional charm in a nearby dining nook. The firm's in-house custom shop, Symphony Cabinetry, designed the master bedroom's cabinetry in a knotty white cedar wood. In this space, vanity mirrors highlight sweeping marble patterns in the wall tiles, while being anchored to the soft aesthetic of their light cedar backdrops. Long glass doors further expand the room's multi-dimensionality.
Share on Facebook