Designing Around the TV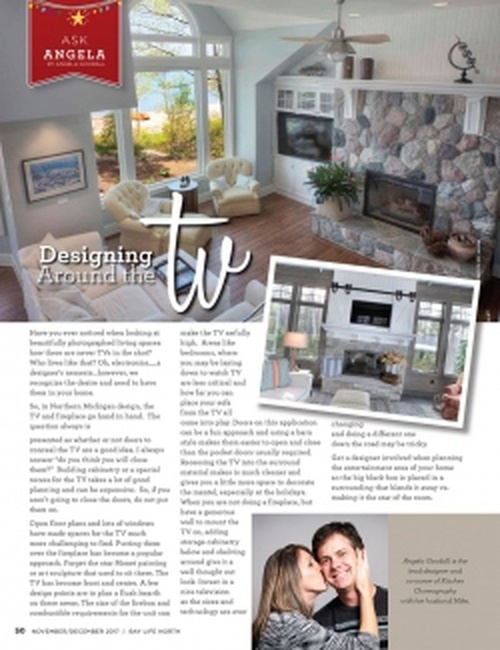 Designing Around the TV by Angela Goodall
Have you ever noticed when looking at beautifully photographed living spaces how there are never TVs in the shot? Who lives like that? Oh, electronics…..a designer's nemesis…however, we recognize the desire and need to have them in your home.
So, in Northern Michigan design, the TV and fireplace go hand in hand. The question always is presented as whether or not doors to conceal the TV are a good idea. I always answer "do you think you will close them?" Building cabinetry or a special recess for the TV takes a lot of good planning and can be expensive. So, if you aren't going to close the doors, do not put them on.
Open floor plans and lots of windows have made spaces for the TV much more challenging to find. Putting them over the fireplace has become a popular approach. Forget the star Monet painting or art sculpture that used to sit there. The TV has become front and center. A few design points are to plan a flush hearth on these areas. The size of the firebox and combustible requirements for the unit can make the TV awfully high. Areas like bedrooms, where you may be laying down to watch TV are less critical and how far you can place your sofa from the TV all come into play. Doors on this application can be a fun approach and using a barn style makes them easier to open and close than the pocket doors usually required. Recessing the TV into the surround material makes it much cleaner and gives you a little more space to decorate the mantel, especially at the holidays. When you are not doing a fireplace, but have a generous wall to mount the TV on, adding storage cabinetry below and shelving around give it a well thought out look. Invest in a nice television as the sizes and technology are ever changing and doing a different one down the road may be tricky.
Get a designer involved when planning the entertainment area of your home so the big black box is placed in a surrounding that blends it away vs. making it the star of the room.
Share on Facebook