Ask Angela - Party on the Porch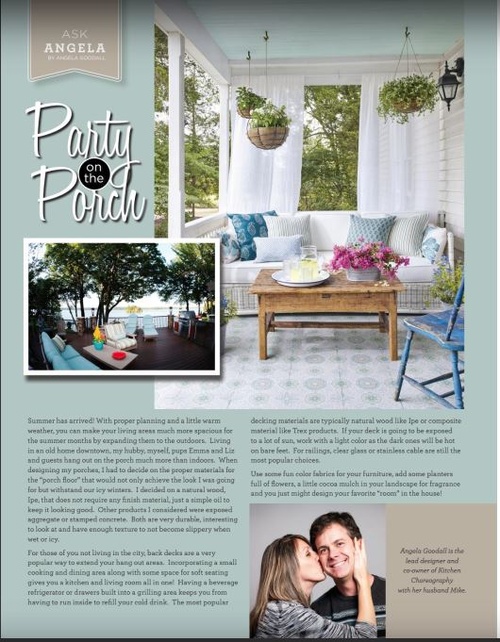 Party on the Porch by Angela Goodall
As Featured in BayLife North magazine
Summer has arrived! With proper planning and a little warm weather, you can make your living areas much more spacious for the summer months by expanding them to the outdoors. Living in an old home downtown, my hubby, myself, pups Emma and Liz and guests hang out on the porch much more than indoors. When designing my porches, I had to decide on the proper materials for the "porch floor" that would not only achieve the look I was going for but withstand our icy winters. I decided on a natural wood, Ipe, that does not require any finish material, just a simple oil to keep it looking good. Other products I considered were exposed aggregate or stamped concrete. Both are very durable, interesting to look at and have enough texture to not become slippery when wet or icy.
For those of you not living in the city, back decks are a very popular way to extend your hang out areas. Incorporating a small cooking and dining area along with some space for soft seating gives you a kitchen and living room all in one! Having a beverage refrigerator or drawers built into a grilling area keeps you from having to run inside to fill your cold drink. The most popular decking materials are typically natural wood like Ipe or composite material like Trex products. If your deck is going to be exposed to a lot of sun, work with a light color as the dark ones with be hot on bare feet. For railings, clear glass, or a stainless cable are still the most popular choices.
Use some fun color fabrics for your furniture, add some planters full of flowers, a little cocoa mulch in your landscape for fragrance and you just might design your favorite "room" in the house!
Angela Goodall is the lead designer and co-owner of Kitchen Choreography with her husband Mike.
Share on Facebook