Ask Angela - Party on the Porch Part 2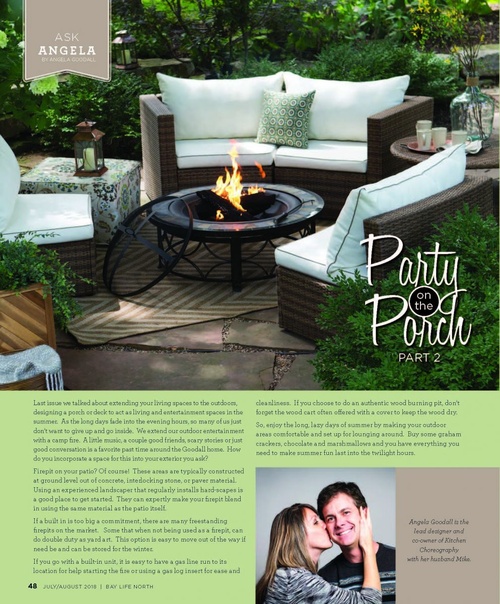 As Featured in BayLife North magazine
Last issue we talked about extending your living spaces to the outdoors, designing a porch or deck to act as living and entertainment spaces in the summer. As the long days fade into the evening hours, so many of us just don't want to give up and go inside. We extend our outdoor entertainment with a camp fire. A little music, a couple good friends, scary stories or just good conversation is a favorite past time around the Goodall home. How do you incorporate a space for this into your exterior you ask?
Firepit on your patio? Of course! These areas are typically constructed at ground level out of concrete, interlocking stone, or paver material. Using an experienced landscaper that regularly installs hard-scapes is a good place to get started. They can expertly make your firepit blend in using the same material as the patio itself.
If a built in is too big a commitment, there are many freestanding firepits on the market. Some that when not being used as a firepit, can do double duty as yard art. This option is easy to move out of the way if need be and can be stored for the winter.
If you go with a built-in unit, it is easy to have a gas line run to its location for help starting the fire or using a gas log for ease and cleanliness. If you choose to do an authentic wood burning pit, don't forget the wood cart often offered with a cover to keep the wood dry.
So, enjoy the long, lazy days of summer by making your outdoor areas comfortable and set up for lounging around. Buy some graham crackers, chocolate and marshmallows and you have everything you need to make summer fun last into the twilight hours.
Angela Goodall is the lead designer and co-owner of Kitchen Choreography with her husband Mike.
Share on Facebook