Ask Angela - Design Trends 2018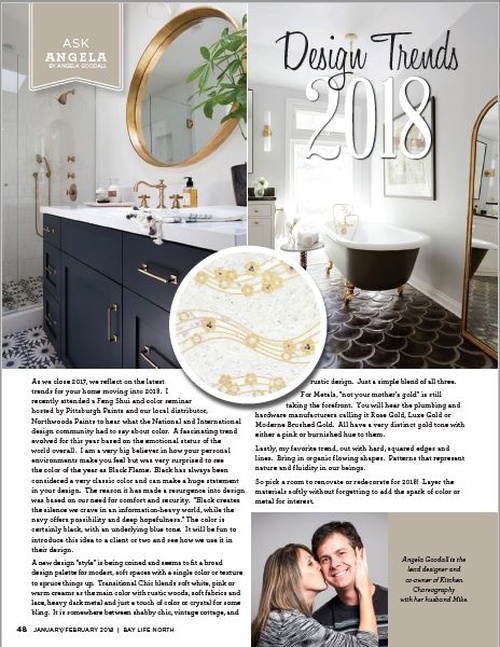 Design Trends 2018 by Angela Goodall
As Featured in BayLife North magazine
As we close 2017, we reflect on the latest trends for your home moving into 2018. I recently attended a Feng Sui and color seminar hosted by Pittsburgh Paints and our local distributor, Northwoods Paints, to hear what the National and International design community had to say about color. A fascinating trend evolved for this year based on the emotional status of the world overall. I am a very big believer in how your personal environments make you feel, but was very surprised to see the color of the year as Black Flame. Black has always been considered a very classic color and can make a huge statement in your design. The reason it has made a resurgence into design was based on our need for comfort and security. "Black creates the silence we crave in an information-heavy world, while the navy offers possibility and deep hopefulness." The color is certainly black, with an underlying blue tone. It will be fun to introduce this idea to a client or two and see how we use it in their design.
A new design "style" is being coined and seems to fit a broad design palette for modest, soft spaces with a single color or texture to spruce things up. Transitional Chic blends soft white, pink or warm creams as the main color with rustic woods, soft fabrics and lace, heavy dark metal and just a touch of color or crystal for some bling. It is somewhere between shabby chic, vintage cottage and rustic design. Just a simple blend of all three.
For metals, "not your mother's gold" is still taking the forefront. You will hear the plumbing and hardware manufacturers calling it Rose Gold, Luxe Gold, or Moderne Brushed Gold. All have a very distinct gold tone with either a pink or burnished hue to them.
Lastly, my favorite trend, out with hard, squared edges and lines. Bring in organic flowing shapes. Patterns that represent nature and fluidity in our beings.
So pick a room to renovate or redecorate for 2018! Layer the materials softly without forgetting to add the spark of color or metal for interest.
Angela Goodall is the lead designer and co-owner of Kitchen Choreography with her husband, Mike.
Share on Facebook