An Empire, Michigan Home with Northwoods Elegance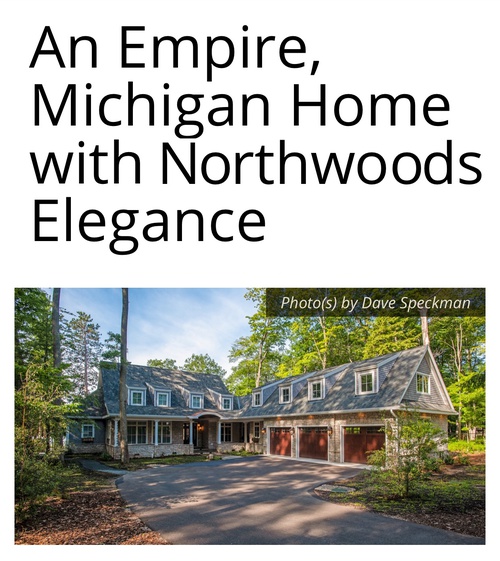 Enjoy a look inside this beautiful Northern Michigan home in Empire.
The homeowners, longtime residents of Chicago, had visited friends on Glen Lake for years—often stopping by on their return trip from sailing in the Chicago to Mackinac Yacht Race. When a lot went up for sale a couple of doors down from their friends' home, they knew it was time to own their own piece of beautiful Glen Lake. Working with the skilled team at Mapleridge Construction, they built this handsome home that rests perfectly on its site.
The classic floor plan consists of a great room flanked by wings on each side that embrace a terrace and the lake view—simple and simply perfect for lakeside living. The couple channeled a hint of New England by cladding the exterior in stacked natural stone and shake, and then paving the generous front porch and equally generous terrace in bluestone—a rustic, elegant look that lives comfortably anywhere in the Northwoods.
The great room's stacked stone fireplace, and floor made of six-inch hickory planks, speak Up North with a genteel accent.
The skilled carpenters at Mapleridge constructed the custom built-ins based on drawings from the homeowner, as well as two half barn-style doors above the mantel that close to cover the 75-inch television. The wealth of molding and details such as cherry beams, window casings and cherry stair system are further testaments to the quality of Mapleridge's workmanship.
Angela Goodall of Kitchen Choreography stepped in to assist in the design of this incredible kitchen that begs for making big, beautiful meals for friends and family. The kitchen revolves around a generous 6-by-10-foot island topped in marble-style quartz with a cherry base. Besides seating six, the island houses an apron sink, two dishwasher drawers and refrigerated beverage doors. Kitchen Choreography designed and fabricated the custom oil-rubbed bronze hood that complements the oil-rubbed bronze lighting fixtures.
Share on Facebook